Food and Beverage
713-853-8150
Catering Menu
From concessions to catering, boxed lunches to banquets our seasoned Aramark team can do it all! By combining unique meals with great events, our food & beverage team is committed to providing you and your attendees an experience they won't soon forget.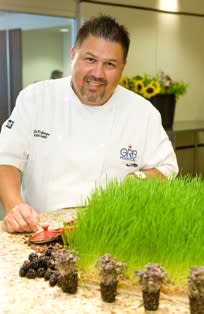 Edward De La Garza
Executive Chef
Edward DeLaGarza has been the Executive Chef at the George R. Brown Convention Center since 2004. Chef Edward oversees the culinary staff and all aspects of food preparation, presentation and service at the GRB. 
With more than 30 years of culinary management experience, he has developed a unique flavor profile, presentation style and has established himself as a culinary leader.  Chef Edward has had the pleasure of showcasing his creativity with such clients as Microsoft, American Wind Energy Association, Starbucks, Hewlett-Packard, Girl Scouts of the USA and Delta Sigma Theta Sorority, Inc.
Originally from San Antonio, Texas, Chef Edward has received his training from The Culinary Institute of America, Pro Chef II CCC, GM Training – University of Florida. Before joining Aramark, Chef Edward worked for Centerplate, Marriott and Boston Culinary Group. 
Please note: Aramark is the exclusive provider of Food & Beverage at the George R. Brown Convention Center